The project is divided into four stages, that will include:
1) The review of existing ground thermal properties data
2) Testing of available closed loop collectors using the Thermal Response Test Rig
3) Testing of rock core samples using the Divided Bar method
4) Compilation of the final Irish Ground Thermal Properties Database
The recently rebuilt Ballyroan Library in South Dublin has a ground source heating system installed.  Access has been granted to this equipment in order to to ensure  that the ground temperature, collector performance and heat pump operation data is logged and recorded successfully.  The Ballyroan collector performance information will be used to ground truth the field test results form the Dublin region helping to understand the long term performance of collector systems in given ground conditions.
Field testing will be carried out at a selection of shallow geothermal boreholes with the Thermal Response Testing Rig .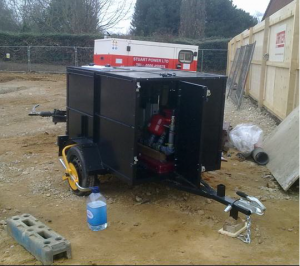 Laboratory Tests on Core sampled will be carried out using the Divided bar Apparatus located in UCD.
For more info on the TRT rig see here and for the Divided Bar see here